An approach of shared progress with and for our stakeholders
Fundamental and designed for the long term, Veolia's purpose is much more than mere words. 
It is the first step in a broader vision of business in which "each company is a mosaic of stakeholders whose expectations must be equitably taken into account when sharing the value created". 
It is a compass that helps us set and hold our course over the long term, a shared progress approach that involves all Group employees. It is pursued for the benefit of all stakeholders and is applied through the Impact 2023 strategic program.
Managing the business through a multifaceted performance

 
Veolia is committed to a multifaceted performance with the same level of standards and expectations in its economic, financial, commercial, social, societal and environmental performance. Its 18 indicators reflect progress targets for 2023. These will be regularly audited and measured by independent bodies, and serve as the basis for the variable compensation of Veolia's senior executives.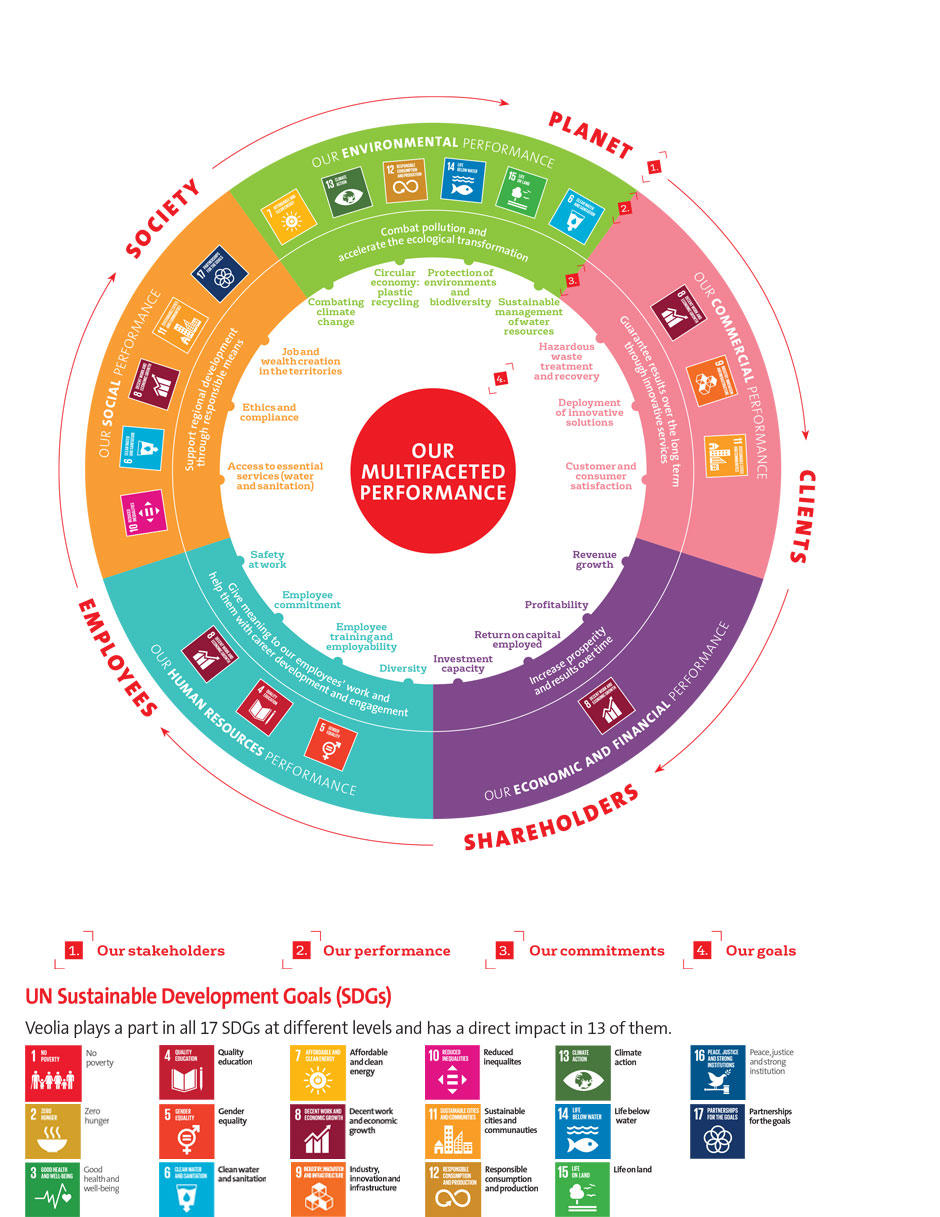 UN Sustainable Development Goals
Veolia plays a major part in all 17 SDGs at different levels and has a direct impact on 13 of them.
No poverty 
Zero hunger 
Good health and wellbeing 
Quality education 
Gender equality 
Clean water and sanitation 
Affordable and clean energy 
Decent work and economic growth 
Industry, innovation and infrastructure 
Reduced inequalities 
Sustainable cities and communities 
Responsible consumption and production 
Climate action 
Life below water 
Life on land 
Peace, justice and strong institutions 
Partnerships for the goals 
Shared governance and steering

 
From its creation to its introduction, Veolia's purpose has been supported and steered at the highest level of the company. It serves as an inspiration and will be used to inform the Impact 2023 strategic program. Its mission is widely publicised and shared throughout the Group. 
The Board of Directors, which has approved the text and the indicators, monitors its proper application. 
The Executive Committee and the Management Committee are directly responsible for its oversight. 
The Committee of Critical Friends, made up of independent experts, is regularly asked for its opinion with the aim of "challenging" the company and helping it stay on course. 
A new "Strategy and Innovation" department has been created to steer Veolia's strategy with a view to achieving a multifaceted performance in line with the company's purpose. 
Together with employee representative bodies, Veolia has set up a purpose monitoring committee to encourage all employees to own the purpose and be involved. 
Lastly, managers actively mobilise their employees, both through internal networks and at dedicated events, with the goal of making them key players in their company's purpose.