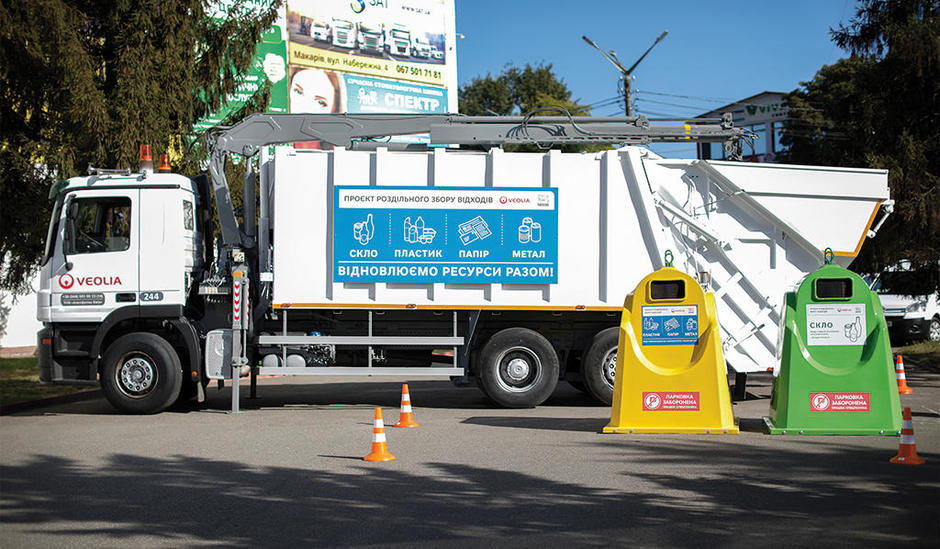 Nestlé and Veolia are helping to build Ukraine's circular economy through a partnership to improve the household waste collection and recycling infrastructure in the Kyiv region.
In April 2020, Nestlé and Veolia announced the signature of a partnership covering packaging waste collection, sorting and recycling. Their collaboration is part of the food giant's 2018 commitment to make 100% of its packaging recyclable or reusable by 2025. And it has resulted in the project launched in Ukraine to increase the country's household waste collection and recycling rates.
On September 14, 2020, Nestlé Ukraine and Veolia Ukraine, which has been operating in the country since 1995, announced the launch of an innovative selective household waste collection project in the small towns of Makariv, Novi Petrivtsi and Stari Petrivtsi - all in the Kyiv region and with a total population of approximately 28,000. With an investment of more than €1.7 million over five years, the project aims to develop the waste collection and treatment infrastructure and test a national-scale extended producer responsibility (EPR) system.
Deployed in numerous countries across the world, EPR involves transferring responsibility from municipalities to manufacturers who have responsibility for managing waste from their products – right up to the post-consumer stage of the product life cycle. Considered by its advocates as an effective environmental policy instrument, it aims to reduce landfill and encourage manufacturers to take environmental considerations into account in their product design. 
However, implementing EPR requires an appropriate legislative framework and infrastructure, which is not necessarily the case in Ukraine, where the waste issue has proven to be critical in many cities. According to the Kyiv Post, only 16% of waste is sorted and 5 to 6% recycled, while the rest ends up in increasingly saturated landfills. The Ukrainian government has taken an important first step to improve the situation by committing to comply with European Union directives and adopting a national waste management strategy. Within this framework, the country has adopted several measures aimed in particular at improving recycling.
Businesses operating in Ukraine will also have to take concrete action in this regard. The partnership between Nestlé and Veolia is perfectly in line with this approach. As part of the project, more than 200 specialized waste paper, metal, glass and plastic containers were installed in the three selected cities. According to the calculations of Veolia specialists, around 20 metric tons of glass and 25 metric tons of other types of waste should be collected each month for recycling and reuse.
 
CREDITS PHOTOS : Main picture © Veolia