In Glasgow (Scotland), in addition to the negotiations between the Parties of the COP26, public and private actors are also making their voices heard: the Industry Action Event of the Marrakech Partnership for Global Climate Action, organized by the World Business Council for Sustainable Development (WBCSD), brought together different stakeholders on the theme: boosting industry ambition and action to achieve a net zero goal by 2050 and strengthen climate resilience. Veolia CEO Antoine Frérot presented three solutions - the circular economy, methane capture, and battery recycling - and what he expects from COP26 to accelerate the ecological transformation.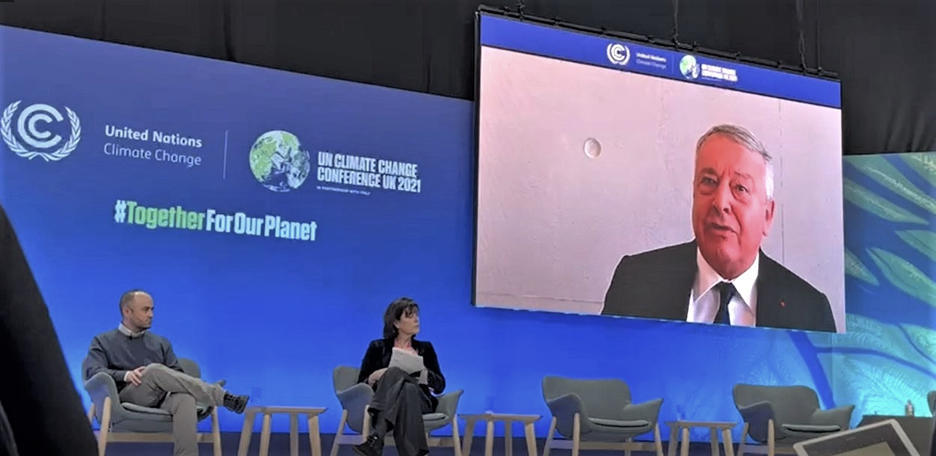 Veolia is committed with all its stakeholders to lead the changes necessary to limit global warming to + 1.5°C and achieve "net zero emissions" of greenhouse gases (GHG) by 2050.
Circular economy, methane capture and battery recycling
We all know that extracting, processing, and transporting raw materials to make new products emits large amounts of greenhouse gases. So, if we replace these raw materials by using waste transformed into new raw materials, we will emit much less GHG, began Antoine Frérot, before presenting three solutions:
The use of recycled plastic to make a plastic bottle emits 70% less greenhouse gases than with virgin raw materials. And Veolia decided several years ago to multiply its plastic recycling capacities by 5. 
Veolia is going to capture the methane emitted by all its landfills around the world by transforming it into biogas, a renewable energy. In Brazil, the Group has just inaugurated 3 new power plants using landfill biogas as a primary energy source.
Veolia is stepping up its innovation efforts in the field of recycling electric vehicle batteries, because these end-of-life batteries contain valuable raw materials. The group will soon be able to recycle 100% of the metals from used batteries. It already extracts "ultra pure lithium" from them, in the form of lithium carbonate.
Giving carbon a price and increasing R&D efforts
Polluting must cost more than not polluting or cleaning up. As soon as the cost of cleaning up is lower than the cost of polluting, businesses, cities and individuals will change their behaviour and will begin to clean up. A high carbon price will be key to moving faster. Furthermore, we will not reach carbon neutrality without increasing our R&D efforts. It is one of the major responsibilities incumbent on companies: they need to innovate more, for example to recycle batteries or capture and reuse carbon. Since we will not succeed in avoiding all carbon emissions, we need to be able to capture all residual emissions.
For the CEO, it is also necessary to develop bioconversion to be able to feed 10 billion inhabitants by 2050, using less water, less energy and less land, and producing sustainable proteins for animal feed. We must multiply the innovation efforts to decarbonise the global economy.
"INDUSTRY COMMITMENT" OF THE MARRAKECH PARTNERSHIP FOR GLOBAL CLIMATE ACTION
The actions of the Marrakech Partnership for Global Climate Action are guided by the long-term goals of the United Nations 2030 Agenda for Sustainable Development. Aiming for environmental, economic and social transformation to achieve the +1.5°C target, the Marrakech Partnership is involved in various activities, including Regional Climate Weeks, the organization of meetings during COPs, the World Summit on Climate Action, etc. Its industry action focuses on 10 high-emission sectors: aluminium, cement, chemicals, consumer goods, fashion, metals and mining, mobile and ICT, plastics, retail and steel. Decarbonising these sectors will play a key role in reducing greenhouse gas emissions and building global resilience to the impacts of climate change
2 OTHER INTERVENTIONS BY VEOLIA: POSITIVE ENERGY TREATMENT PLANTS AND THE CIRCULAR WASTE ECONOMY
Armelle Perrin-Guinot, Deputy Director of Sustainable Development at Veolia, participated in the side-event "When drinking water and sanitation services contribute to climate change mitigation", organized by the French Water Partnership, ICLEI and Climate Chance. She explained, on this occasion, how wastewater treatment plants contribute to reducing local energy impact by producing more energy than they consume, with the example of the positive energy plant in Cagnes-sur-Mer (France). 
Anna Laurent, Head of Strategy for Veolia in the United Kingdom, participated in the round table entitled "Reduce, recycle and reuse: how the waste sector contributes to net zero" by creating a truly circular economy. She spoke of the political actions to be implemented in the United Kingdom to support private investment in recycling infrastructure, essential to reduce the amount of waste going to landfill, and its energy recovery.
Armelle Perrin-Guinot (Veolia) at the side-event on drinking water and sanitation services that contribute to climate change mitigation.